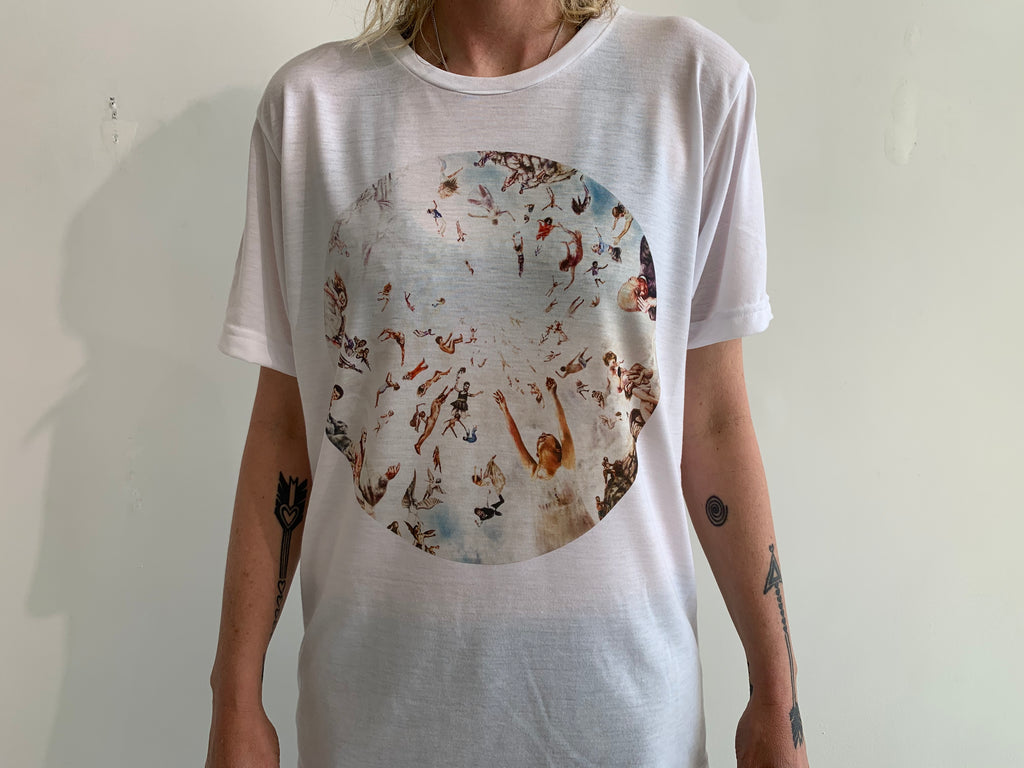 $ 49.95
$ 0.00
Rapture Unisex T-Shirt
A comfortable and lightweight unisex fine art t-shirt, based on the Rapture  painting from Art Unified artist Johan Andersson.
Other paintings also available as shirts on request 
100% Polyester construction

Unisex size – women may prefer to order one size smaller

Made from start-to-finish in Los Angeles
About the Painting
The Rapture painting is from Andersson's 'Gentile Embrace' series - a provocative modern-day rendition of biblical scenes. The characters include the homeless, drug addicts, and convicts. The 'Gentile Embrace' series is about updating Biblical scenes and asking ourselves which modern-day figures those stories would have included and also exposing religious hypocrisy.
The series stirs a reaction in the viewer to look deep within himself or herself to confront their false sense of inadequacy, suggesting that there is nobody who is exempt from God's use. Throughout Biblical history, God has used gentle archetypes to shame the wise and proud, illuminating the strength in weakness. These lessons illustrate our hunger for a force greater than ourselves, allowing us to discover our true identity through the unveiling of unconditional love.
About the Artist
After graduating from Central St. Martins in 2008, Johan Andersson became the youngest ever person to be shortlisted for the BP Portrait Award and named as The Independent's top 20 Artists 2008. His selected work was displayed at the National Portrait Gallery and in the same year he was also selected for the Jerwood Contemporary Painters prize. Since then Andersson has gone on to exhibit work along side artists including Anish Kapoor, Tracy Emin, Sarah Lucas, Gavin Turk and Howard Hodgkin, and in 2010 was selected to exhibit work in support of BreakThrough Breast Cancer at The V&A Museum. Andersson has exhibited and sold on the international art market including the Scope Art Fair in Basel and Cutlog in Paris.
To learn more about the artist, watch an interview here or visit his artist page here.