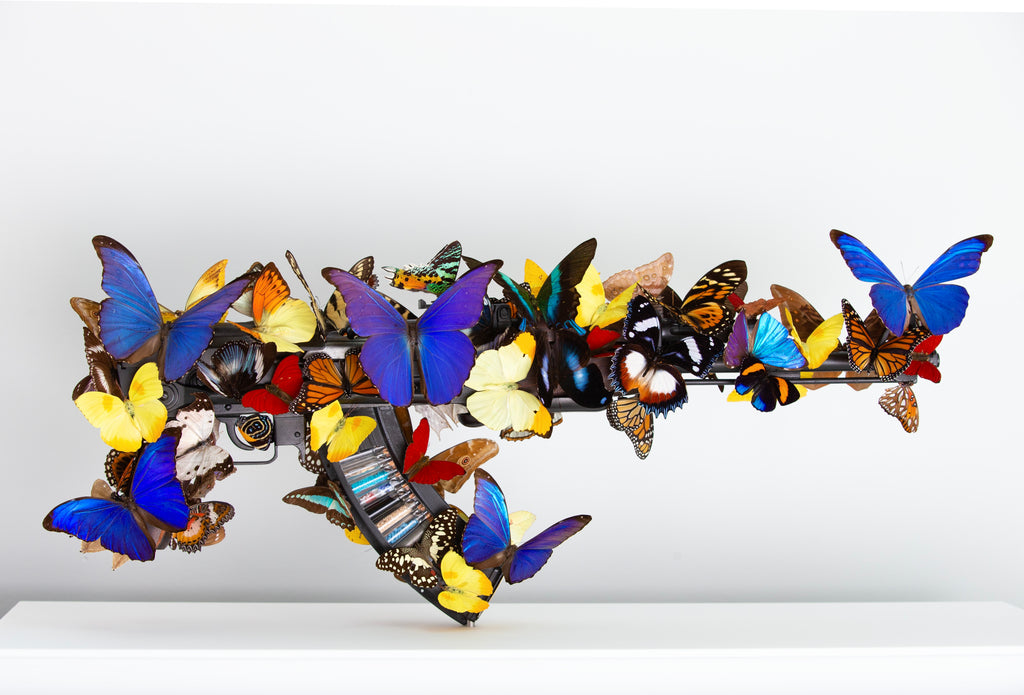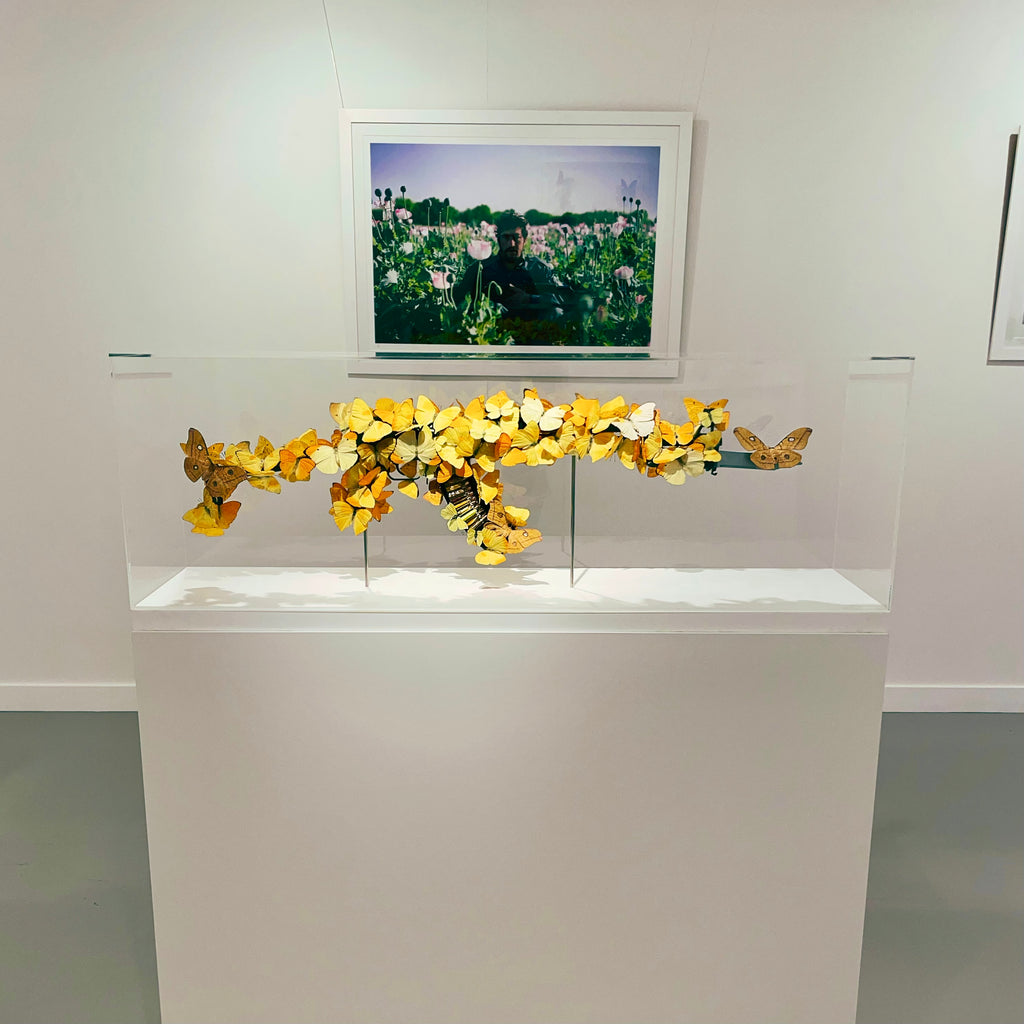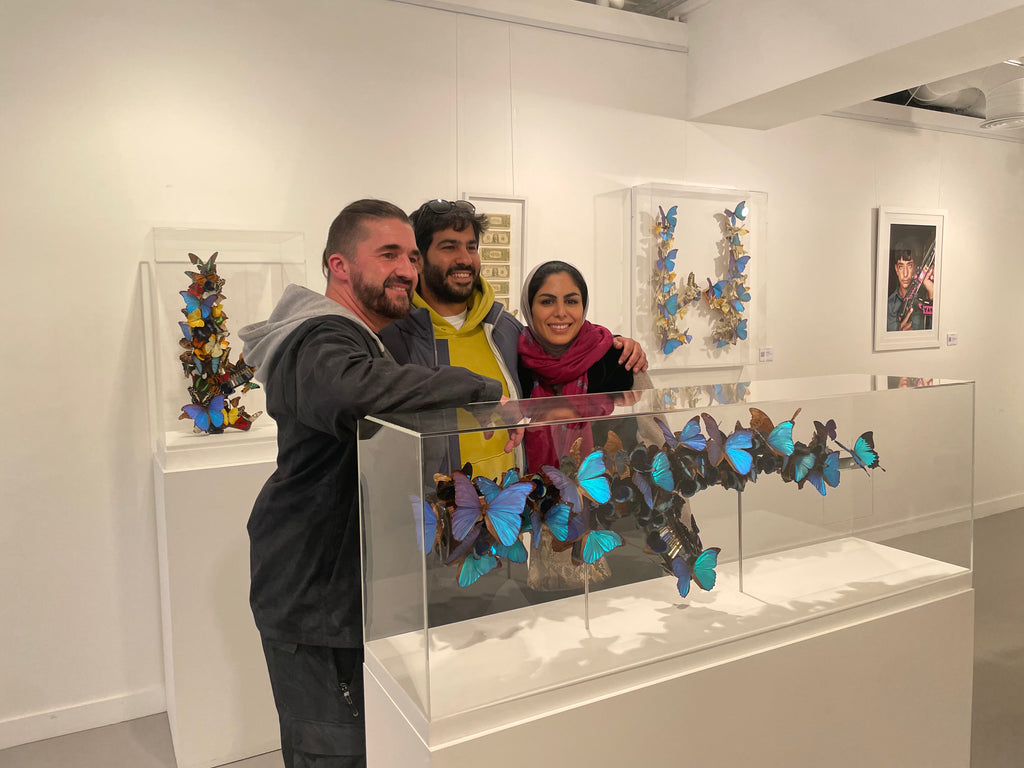 $ 22,000.00
$ 0.00
Beat of a Wing Draco Medium: AK-47 covered in real butterflies
AK-47: Sourced from conflict zones, they are removed from
circulation and deactivated. Each art piece has a serial
number along with a deactivation certificate. Most AKs are
made from empty components.
Currency: On some art pieces, Bran meticulously cuts and
covers the entire AK or grenade in real American dollar bills.
The use of currency depicts the reality of how much money
is spent and made through war.
Butterflies: Farmed by specialists in a certified
lepidopterarium, Bran only works with ethically sourced
species, some of the butterflies date back to 1940.
If good care is taken and they are not placed in direct
sunlight, the butterflies organically preserve for a lifetime.
The butterflies covering the dangerous weapon is Bran's
interpretation and the utopian vision of mother nature taking
over man-made tools and taking control over human errors.
Each AK-47 magazine is cut revealing glass bullets which
contain symbolic fillings customised to the narrative of that
piece.

ART PIECE INFORMATION : Environmental Piece
Title: Beat of a Wing Draco
Medium: AK-47 covered in real butterflies - mixed species with glass
bullets containing the following symbolic fillings:
1) Coal
2) Dead Fish
3) Pesticide
4) Plastic
5) Oil
6) Saw Dust
7) Fertiliser
8) Ak-47 round
The bullet fillings represent the resources we drain from the planet and
in return the bad we put init.
Narrative:
Is inspired by the artist's utopian vision or fantasy, that even while the
world is being slowly engulfed by man's greed, always disguised as
need, the butterfly's wings might create tiny changes in the
atmosphere, ultimately perhaps altering the path of the planet's
condition, returning it back to an earlier prelapsarian state when man
held such destructive and ravenous impulses in check and Mother
Nature was left to her own devices.
The butterflies become active agents of this vision, taking hold of the
AK-47 rather than simply alighting on it, their complete life process
enacted on the bayonet as a declaration of the life force of Mother
Nature itself.