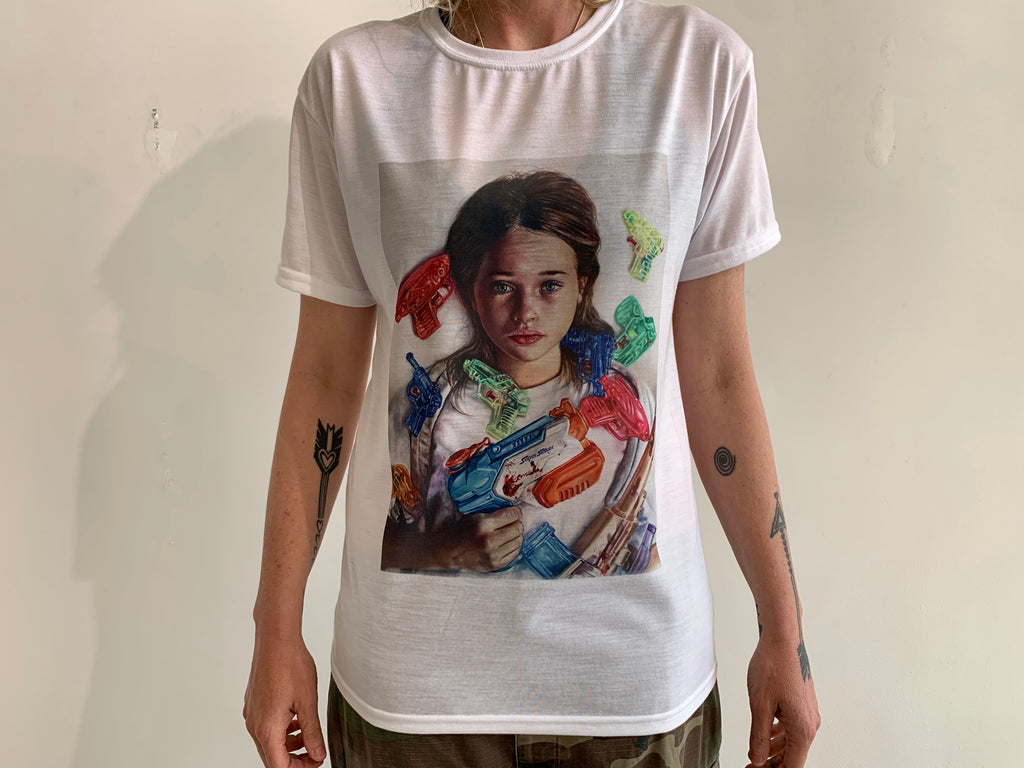 $ 49.95
$ 0.00
Toy Guns Unisex T-Shirt
A comfortable and lightweight unisex fine art t-shirt, based on the Toy Guns  painting from Art Unified artist Johan Andersson.
Other paintings also available as shirts on request 
100% Polyester construction

Unisex size – women may prefer to order one size smaller

Made from start-to-finish in Los Angeles
About the Painting
Toy Guns is a series speaking into issues of race, school shootings, gun accessibility and how gun culture is sold to children through toys. Kids deserve the freedom to study in school and enjoy their innocent years without the glorification of guns so heavy circulated in our gun driven culture divorced from the necessary accountability. The series of portraits comment on the careless nature of guns by depicting innocent lives juxtaposed against the glamorization of guns in the form of toys. Toy guns looks at the oblivious nature from a young age and the freedom kids have to brandish fake weapons and pretend to play killing games without no dire consequence in the future. 

Andersson, through this series also implicitly explores the injustice of shootings touching upon issues of Police brutality and the #blacklivesmatter movement. The childrens hands represent thebridging of racial division and unity. The paintings are intended to feel slightly uncomfortable and to both provoke and confront this issue. They are poignant, beautiful and scary all at the same time. 
About the Artist
After graduating from Central St. Martins in 2008, Johan Andersson became the youngest ever person to be shortlisted for the BP Portrait Award and named as The Independent's top 20 Artists 2008. His selected work was displayed at the National Portrait Gallery and in the same year he was also selected for the Jerwood Contemporary Painters prize. Since then Andersson has gone on to exhibit work along side artists including Anish Kapoor, Tracy Emin, Sarah Lucas, Gavin Turk and Howard Hodgkin, and in 2010 was selected to exhibit work in support of BreakThrough Breast Cancer at The V&A Museum. Andersson has exhibited and sold on the international art market including the Scope Art Fair in Basel and Cutlog in Paris.
To learn more about the artist, watch an interview here or visit his artist page here.